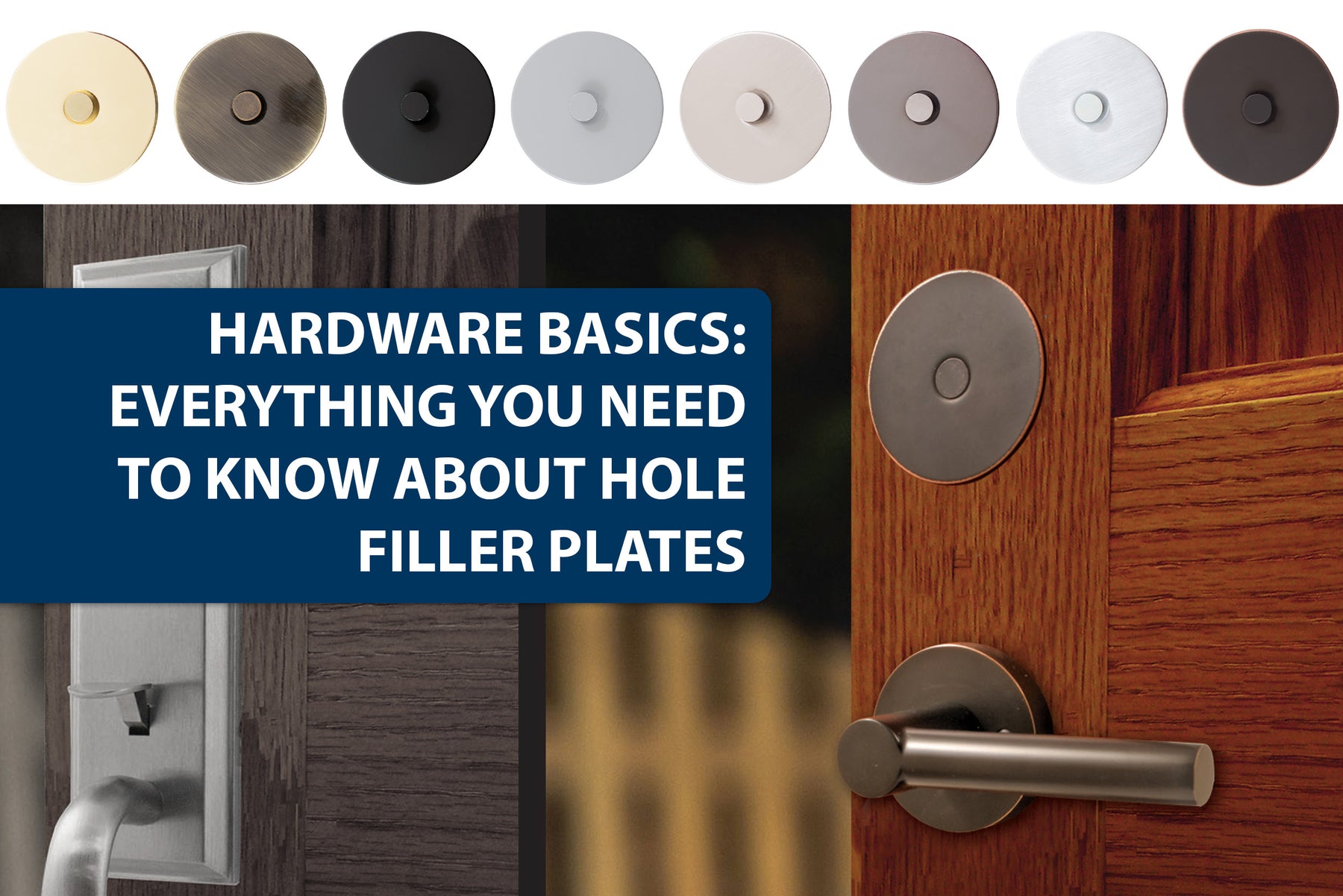 Hardware Basics: Everything You Need to Know About Hole Filler Plates
Are you looking to change the aesthetic of your door by removing a deadbolt or handleset? If so, then you might need a hole filler plate to cover a hole in your door. The Stone Harbor Hardware hole filler plate is a small but powerful accessory that can enhance both the aesthetics and the security of your door. In this blog post, we'll explore what this handy device is, why it matters, and how to install it. 
What is a Hole Filler Plate? 
Our hole filler plate is a metal plate designed to cover the holes left behind by previous door hardware installations. These holes usually result when a home owner decides they would like to either remove a deadbolt from their door or change from a handleset to a traditional door knob or lever. These pre-existing holes not only look unsightly but can also compromise your door's security. 
Aesthetics and Finish 
One of the immediate benefits of the Stone Harbor Hardware hole filler plate is its ability to improve the visual appeal of your door. Available eight finishes, including antique brass, antique nickel, matte black, polished brass, prime coated, satin chrome, satin nickel and vintage bronze, this hole filler plate can seamlessly blend with your existing door hardware. The prime coated option allows customers to paint the hole filler plate to match their door's paint color. The finish options ensure that you can match the plate to your doorknob, hinges, and other fixtures, creating a cohesive and attractive look. 
Enhanced Security 
Aside from aesthetics, the hole filler plate also plays a crucial role in reinforcing your door's security. By covering the previous hole, it prevents unauthorized access and tampering. Intruders often target these weak points to gain entry, and the hole filler plate acts as a deterrent by strengthening the door's structure. 
Easy Installation 
Installing the Stone Harbor Hardware hole filler plate is a straightforward process and does not require extensive DIY skills. Our hole filler plate is designed to fit doors between 1-1/4" and 2-9/16" thick. Additionally, most door locks and deadbolts are designed to fit a 2-1/8" hole, making our 2-5/8" diameter plate the perfect size!
Here's a basic step-by-step guide to get you started: 
Gather Your Tools: You'll need a Phillips-head screwdriver for the installation process.

 

Position the Plate: Place sex bolt and mating screws into the correct plates and position the plate with the mating screw on the outside of the door and the plate with the sex bolt on the inside of the door.

 

Secure the Plate: Using a Phillips-head screwdriver, screw the sex bolt onto the mating screw until each plate is flush against the door.

 
Once you've removed the old hardware and installed the hole filler plate, you may have holes left in the edge of your door and the door jamb. Stone Harbor Hardware also offers a few blank strike plates, including our 1" x 2-1/4" round corner blank strike plates and our full lip round corner strike plates. These pair well with the Hole Filler Plate as they are designed to cover up the hole on the side of the door where the deadbolt or lock latch protruded. 
The Stone Harbor Hardware hole filler plate is a small but significant addition to your door that can make a big difference in terms of aesthetics and security. With various finishes to choose from and an easy installation process, it's a practical and affordable upgrade for any homeowner. 
Whether you're looking to enhance your door's appearance or bolster its security, the Hole Filler Plate is a solution that offers both. Invest in this small but impactful accessory from Stone Harbor Hardware, and you'll enjoy peace of mind and a more attractive entryway. Your door will thank you!