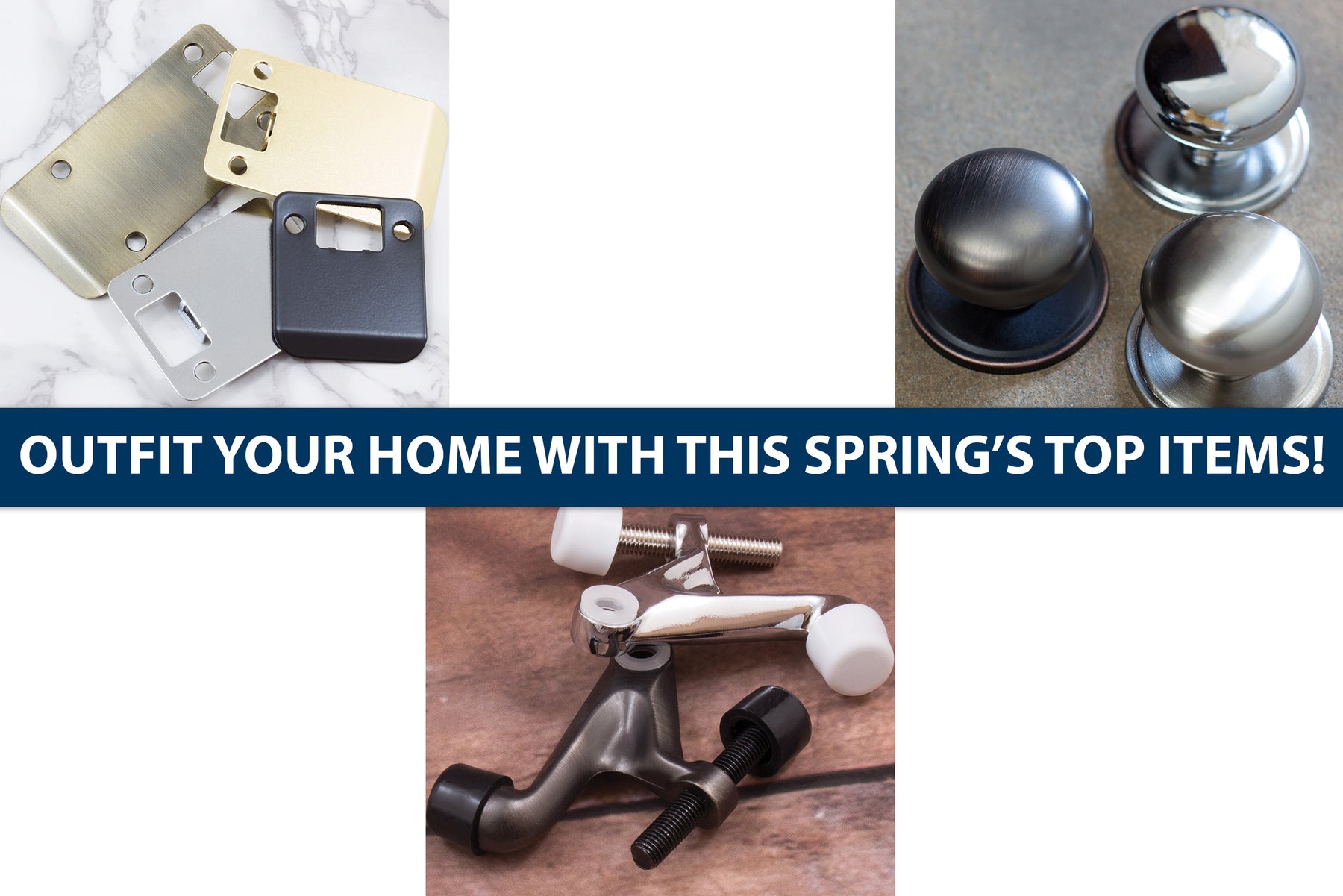 Meet Spring's Most Popular Hardware!
As the weather warmed up and homeowners embarked on their spring home improvement projects, we can't help but highlight the exceptional products that our customers utilized in their projects this season. Join us as we explore the top-selling products that have captured the hearts and attention of customers during this vibrant season, providing practical solutions and elevating the overall look and feel of homes across the country. 
Extended Lip Strike 
Extended lip strikes are a consistent top seller for us, and we offer a range of exceptional options designed to enhance the security and durability of your doors. These strike plates feature an extended lip that provides increased reinforcement, effectively preventing forced entry and ensuring long-lasting protection for your home or office. Crafted with precision and using high-quality materials, Stone Harbor Hardware strike plates are built to withstand heavy use and resist wear and tear. With their sleek design and reliable performance, these extended lip strike plates are the ideal choice for those seeking enhanced security without compromising on style. 
Bi-Fold Closet Knob Backplate 
Another top-seller this spring offers a stylish and practical solution for cabinets or closet doors — the bi-fold closet knob backplates. These backplates are designed to enhance the overall aesthetic appeal of your doors while providing functionality and durability. The knob backplates from Stone Harbor Hardware seamlessly complement any interior decor, whether contemporary or traditional. With their easy installation and exceptional quality, these backplates are the perfect choice for adding a touch of sophistication to your bi-fold closet doors. 
(Our bi-fold backplates make a great combination with our bi-fold closet knobs!)
Heavy-Duty Hinge Pin Doorstop 
The final top-seller we are highlighting are the heavy-duty hinge pin doorstops, which are a must-have accessory for any home or office. These doorstops are designed to ensure that your doors stay securely in place and protected from damage. The innovative design allows for easy installation without the need for drilling or complex tools. With a sleek and discreet appearance, these door stops seamlessly blend into any interior decor. Whether you want to prevent doors from swinging too far open or protect your walls from dents and scratches, the Stone Harbor Hardware Heavy-Duty Hinge Pin Doorstops provide a reliable solution that ensures peace of mind and long-lasting door protection. 
Whether you're in the midst of a home renovation project or simply seeking to enhance the security and aesthetics of your space, Stone Harbor Hardware's products offer an array of solutions that cater to your needs. As we transition into the summer season, we will continue to deliver excellence in design, performance, and innovation.