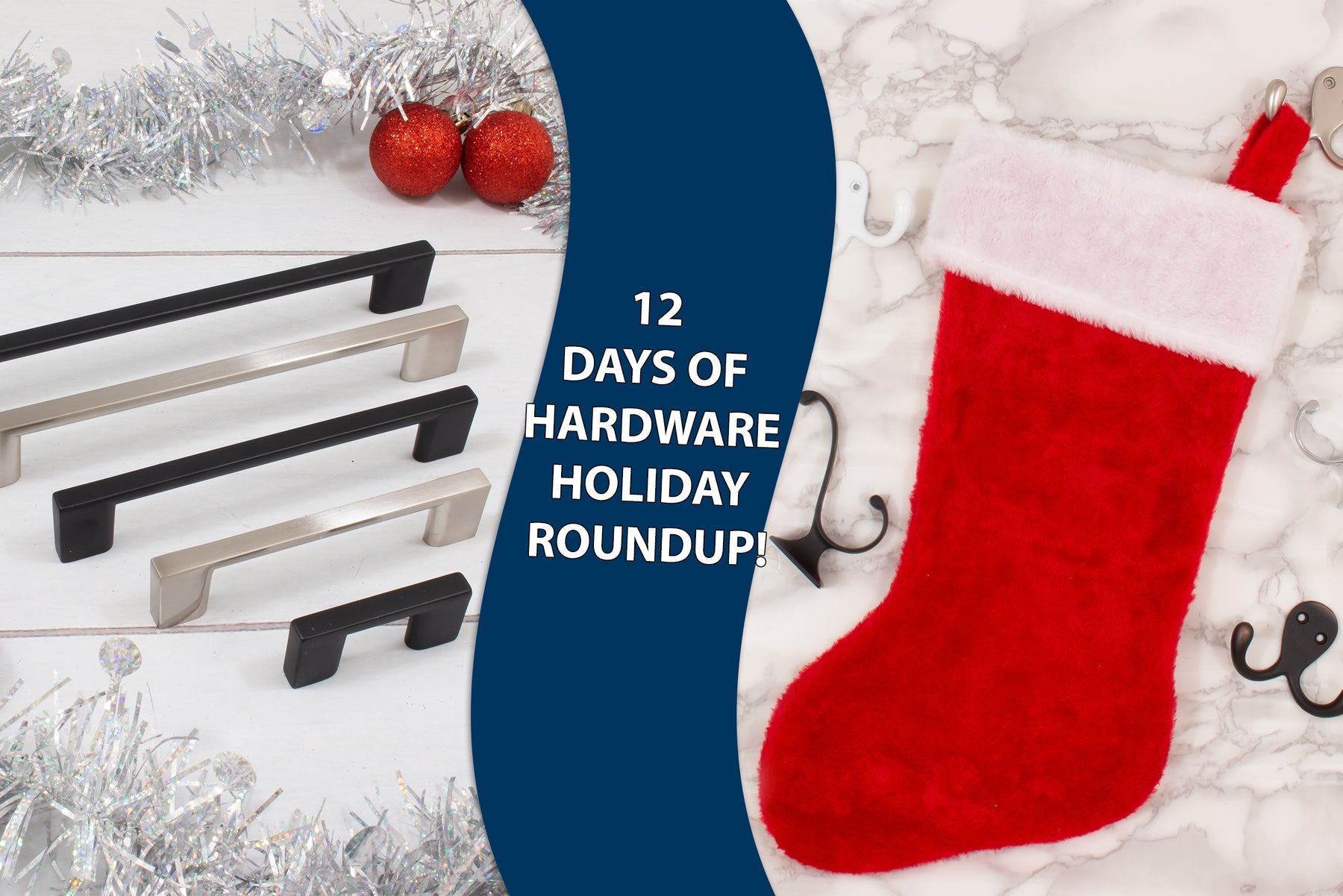 12 Days of Hardware Holiday Roundup
If you've been following our social media channels, you've probably noticed that we're celebrating 12 days of hardware this season! Did you miss a day or two? Don't worry – we've recapped them all here so you won't miss out on the holiday hardware cheer! 
Day 1: Vienna Collections
Our Vienna collections feature a bold, modern style that's perfect for contemporary homes. Available in satin nickel, matte black, vintage bronze, and polished chrome, the Vienna bath hardware and door locks pair well with our contemporary square cabinet hardware, helping you create a cohesive look for your home! Use code HOLIDAY to save on our Vienna collections.
Day 2: Pocket Door Locks
Our pocket door locks come in a variety of styles! Choose from our traditional round pocket door locks, or add a modern touch with our contemporary square pocket door locks. Use code SNOW to save on our pocket door locks.
Day 3: Hooks
Hooks are the perfect way to organize any number of rooms in your home, from the entryway to the bathroom. With a wide range of finishes and styles, you're sure to find one that matches your home's style. Use code REINDEER to save on our hooks!  
Day 4: House Numbers
Santa (and the mail carrier) can't deliver packages to your house if your address isn't clear! Get your home ready for the holidays by updating your house numbers. Use code ELF to save on our house numbers.
Day 5: Contemporary Round Cabinet Hardware
Elegant and modern, our contemporary round cabinet hardware is perfect for your kitchen and bathroom cabinets. Mix and match various sizes of pulls and knobs in satin nickel, vintage bronze, matte black, and polished chrome to create your ideal look! Use code WREATH to save on the Contemporary Round collection.
Day 6: Swing Clear Hinges
Add inches to your doorway (and save on costly remodels) with our swing clear hinges. These hinges move the door out of the opening, making it easier to maneuver a walker or wheelchair through the doorway. Use code GIFTS to save on our swing clear hinges.
Day 7: Turin Lever
Our Turin lever adds an elegant look to contemporary homes, and the curved lever fits neatly in your hand. Available in satin nickel and matte black finishes, the Turin lever pairs well with our contemporary square deadbolts and Munich handlesets. Use code STOCKING to save on the Turin levers!
Day 8: Arts & Crafts Cabinet Hardware
The Arts & Crafts cabinet hardware is perfect for farmhouse kitchens and other transitional homes. The hammered texture adds a rustic touch to any room, and with seven different pieces, you can combine knobs, pulls, and backplates to create the look that's perfect for you. Use code TINSEL to save on the Arts & Crafts collection.
Day 9: Sliding Door Pulls
Dress up your sliding barn doors with one of our sliding door pulls! Beautiful and functional, these pulls are available in a variety of sizes and finishes. Use code ORNAMENT to save on the sliding door pulls.
Day 10: Contemporary Door Stops
Functional and stylish, these contemporary door stops are the perfect way to protect your walls from damage! Choose from satin nickel, matte black, oil-rubbed bronze, and polished chrome. Use code NOEL to save on these door stops!
Day 11: Zurich Collections
The Zurich collection is an elegant option for modern homes. Available in satin nickel, vintage bronze, matte black, and polished chrome, the Zurich locks and bath collection pair beautifully with our contemporary round cabinet collection. Use code WINTER to save on the Zurich hardware!
Day 12: Jetstream Cabinet Hardware
Our Jetstream cabinet hardware features a streamlined design that complements both modern and transitional styles. Its smooth design fits easily in your hand, and the pulls' rounded edges help keep it from catching on belt loops and pockets. Use code PRESENTS to save on Jetstream!
These deals are good all December long, so pick out an early Christmas present (or two) for your home this year!