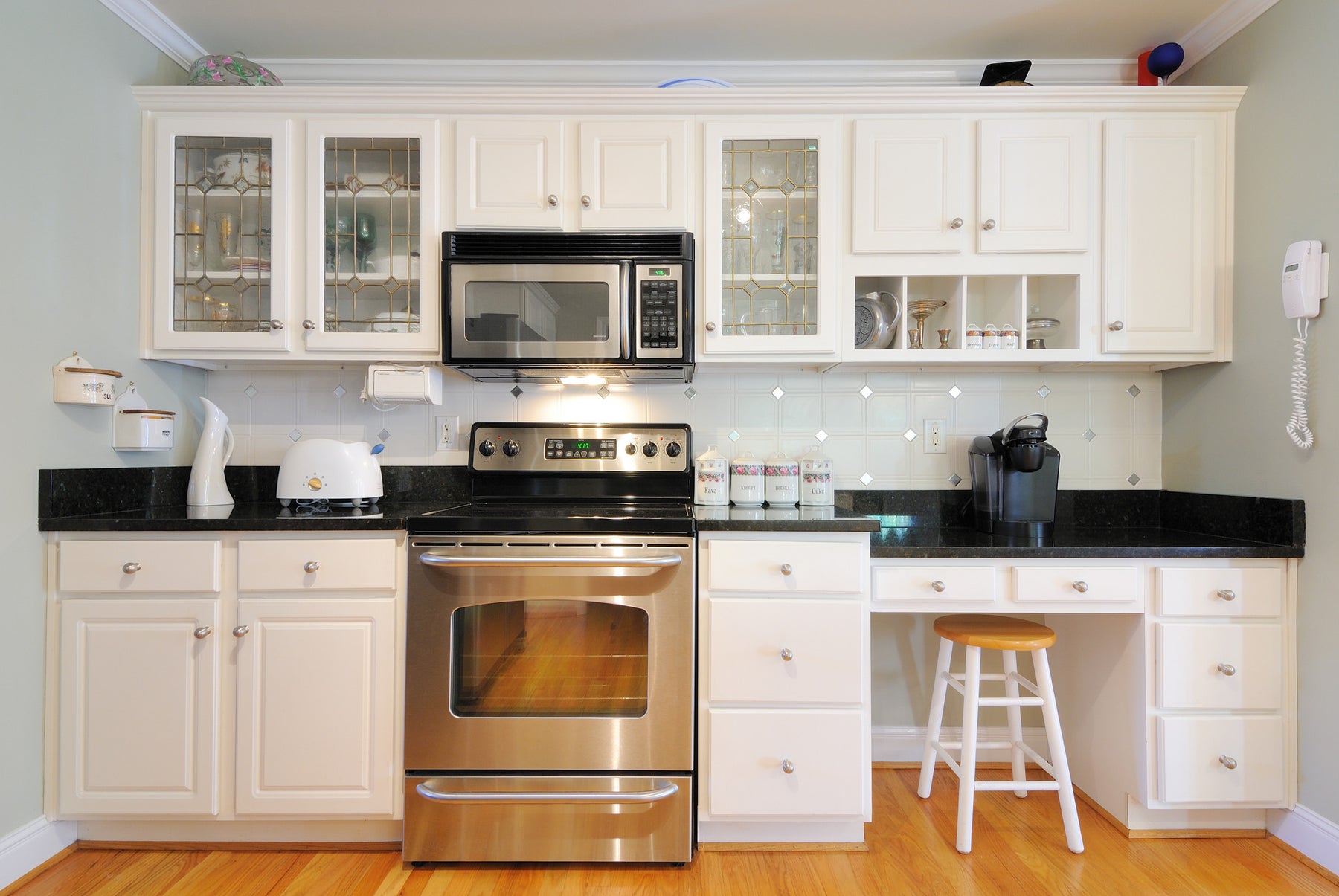 Get a new Kitchen in a Weekend!
For many people, remodeling a kitchen is an overwhelming task. From flooring to appliances, the choices are almost endless. And then, there's the budget and timeline to consider. Full kitchen remodels can cost several thousand dollars, and they often mean that your kitchen is out of commission for several weeks. Who has the time for that?
You may not have the time or cash for a major kitchen overhaul, but with a little planning and elbow grease, you can give your kitchen a facelift in just a weekend!
Friday evening: Take some time to declutter the space. Has your island become a landing zone for miscellaneous papers, backpacks, art projects, homework and receipts? Recycle what you no longer need, and file important papers so you can easily find them later. Take a good look at your countertops as well. Do you need to keep everything on your counters? Can some items be stored in a cupboard or pantry?
Wash the walls and the cabinets too. Pick up a pizza or order take-out for dinner so you don't have to worry about cooking while you're working!
Saturday morning: Now that everything's clean, you're ready for the next step. Painting the walls is one of the quickest ways to change the look of any room. Since you're painting the kitchen, you'll probably want to choose paint in either a satin or semi-gloss finish so you can easily wash cooking splatters off the walls later! (If you're not sure what colors you like, spend some time on Houzz or Pinterest getting ideas beforehand.)
Measure your walls so you know how much paint to buy, and then head to your local hardware store to pick up your paint! (Many paint companies have a calculator that helps estimate how much paint you'll need to cover the walls.) Make sure your paintbrushes, rollers, trimmers and masking tape are in good shape before you go to the store – that way, you won't have to run back out to get new ones before you can paint.
Something to keep in mind: While painting the walls is fairly straightforward (and can easily be done in a weekend), painting your cabinets will take more time and effort. This Old House has a helpful video about painting cabinets if you're dying for an all-white kitchen. Just be sure to plan more time for this project!
Tape the edges along the ceiling, baseboards and cabinets and put a drop cloth on the floor before opening the can of paint. Then, put a coat of your new color on the walls! If you think you'll need a second coat of paint, wrap your brushes and rollers in plastic wrap and then store them in a plastic bag – this saves some paint and means you'll only have to wash things out once.
Saturday afternoon: While the paint dries, think about lighting. Good lighting can make a huge difference in how your kitchen feels and functions. It's much easier to prepare dinner if you're not chopping vegetables in a dark, shadowy corner.
Undercabinet lighting is great way to brighten up your workspace. Installing hard-wired lighting will take longer than a weekend (and require the expertise of a licensed electrician), but battery-powered LED lights can be a great DIY-friendly alternative. Many install with peel-and-stick mounting tape and come in both puck and strip styles.
Sunday morning: If necessary, give the walls a second coat. The bright morning sun can shed light on any spots you may have missed. Second coats usually go much quicker than first coats, so you should be done before lunch!
Sunday afternoon: Update or add hardware to your cabinets. Changing your knobs and pulls can make a big difference in the look of your kitchen! If you're replacing cabinet pulls, measure the distance between the existing screw holes. Choosing a new pull with the same center-to-center dimensions will make things much easier, as you won't have to fill old holes and drill new ones.
Vintage bronze knobs and pulls look great in both transitional and traditional kitchens. You can mix of knobs and pulls (knobs on doors and pulls on drawers), or stick with one or the other.
For a more contemporary look, consider using hardware with sleek lines and cool finishes, such as bar pulls in polished chrome or satin nickel.
Sunday evening: Put it all back together! Peel off any painter's tape and put your supplies away. Then, sit back and admire your new kitchen.