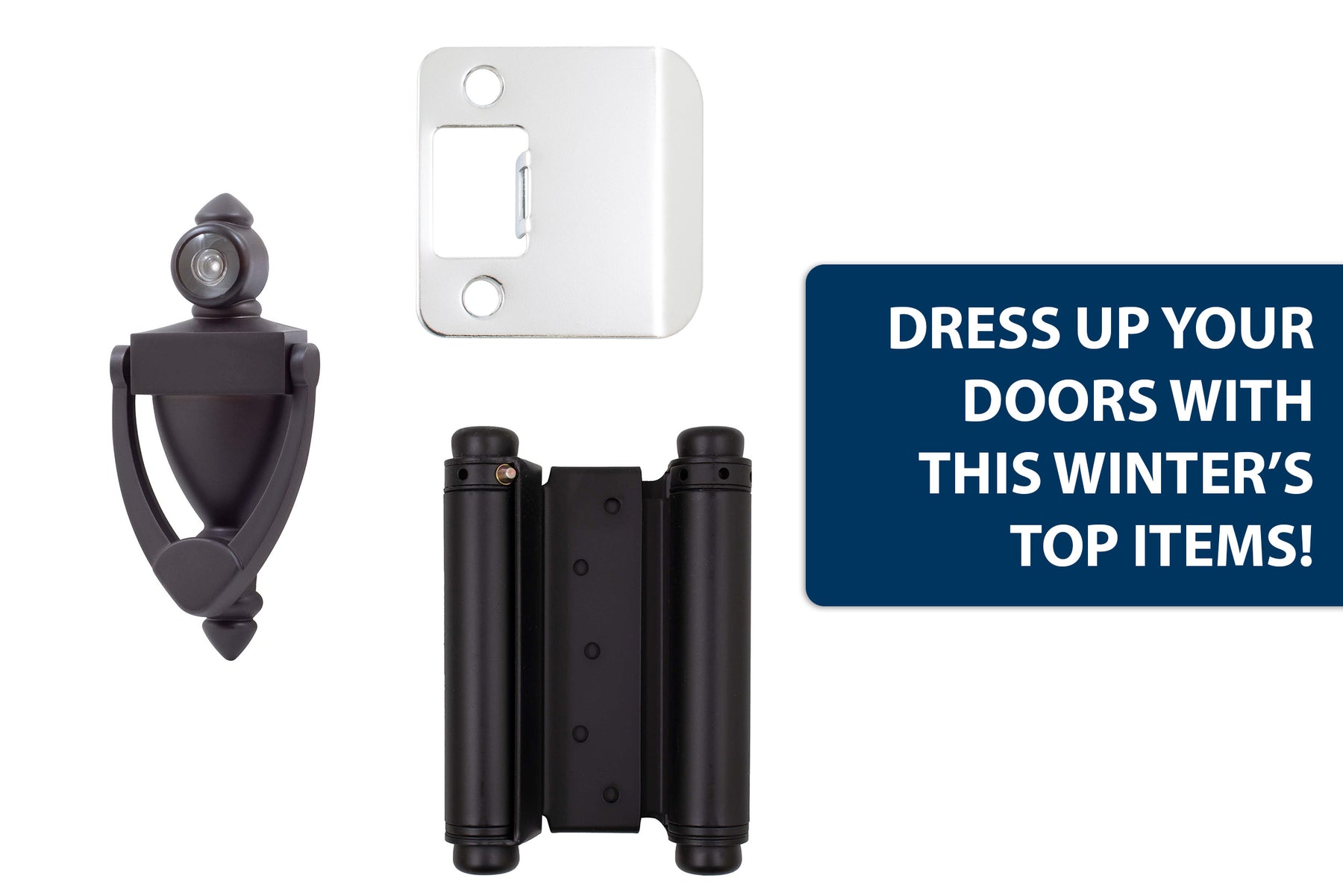 Check Out Our Most Popular Hardware From This Winter!
With winter coming to a close soon, we thought it would be beneficial to highlight a few of the Stone Harbor Hardware products that were most popular with our customers during the winter months. Three of the most popular products from us here at Stone Harbor this winter were Extended Lip Strikes, Door Knockers with Viewer, and Heavy-Duty Double Acting Spring Hinges. Let's take a closer look at these items and highlight why they were so popular with customers throughout the winter! 
Extended Lip Strike 
Stone Harbor Hardware's extended lip strikes are one of our more popular products year-round and this continued during the winter months of late 2022 and early 2023. Extended lip strikes help protect the trim around the doorway from getting scratched by the latchbolt.
Our extended strikes come in six different sizes that are defined by the distance between the center of the product's mounting holes and the very edge of its lip. These sizes include 1½ inches, 1¾ inches, 2 inches, 2½ inches, 3 inches, and 4 inches. 
Our extended lip strikes are also available in eight unique and stylish finish options as well, making it easy to coordinate them with the rest of your home's hardware. The eight finish options available for customers to consider are antique brass, antique nickel, matte black, oil-rubbed bronze, polished brass, polished chrome, satin chrome, and satin nickel. 
Door Knocker with Viewer 
Another popular Stone Harbor Hardware product this winter has been our door knocker with viewer. The door knocker is a great way to dress up your front door, and the addition of the viewer provides the extra security of knowing who is at the door!
These items are available in two sizes: 4 inches and 5½ inches. The 4-inch version comes a 160-degree door viewer equipped at the top of the knocker while the 5½-inch version features a 180-degree door viewer instead. Additionally, both sizes are available in three finishes that include matte black, oil-rubbed bronze, and satin nickel. 
Heavy-Duty Double Acting Spring Hinge 
The final Stone Harbor Hardware product we will be highlighting that has been very popular this winter is the heavy-duty double acting spring hinge. These hinges feature three sizes, 4-inch, 5-inch, and 6-inch. When three hinges are used, the 4-inch versions are rated for up to 75 pounds, the 5-inch versions are rated for up to 100 pounds, and the 6-inch versions are rated for up to 125 pounds. The four finishes that these three hinges come in are matte black, oil-rubbed bronze, polished chrome, and satin nickel. 
If you are interested in learning more about any of these three great Stone Harbor Hardware products for yourself, then please feel free to explore our online store today!