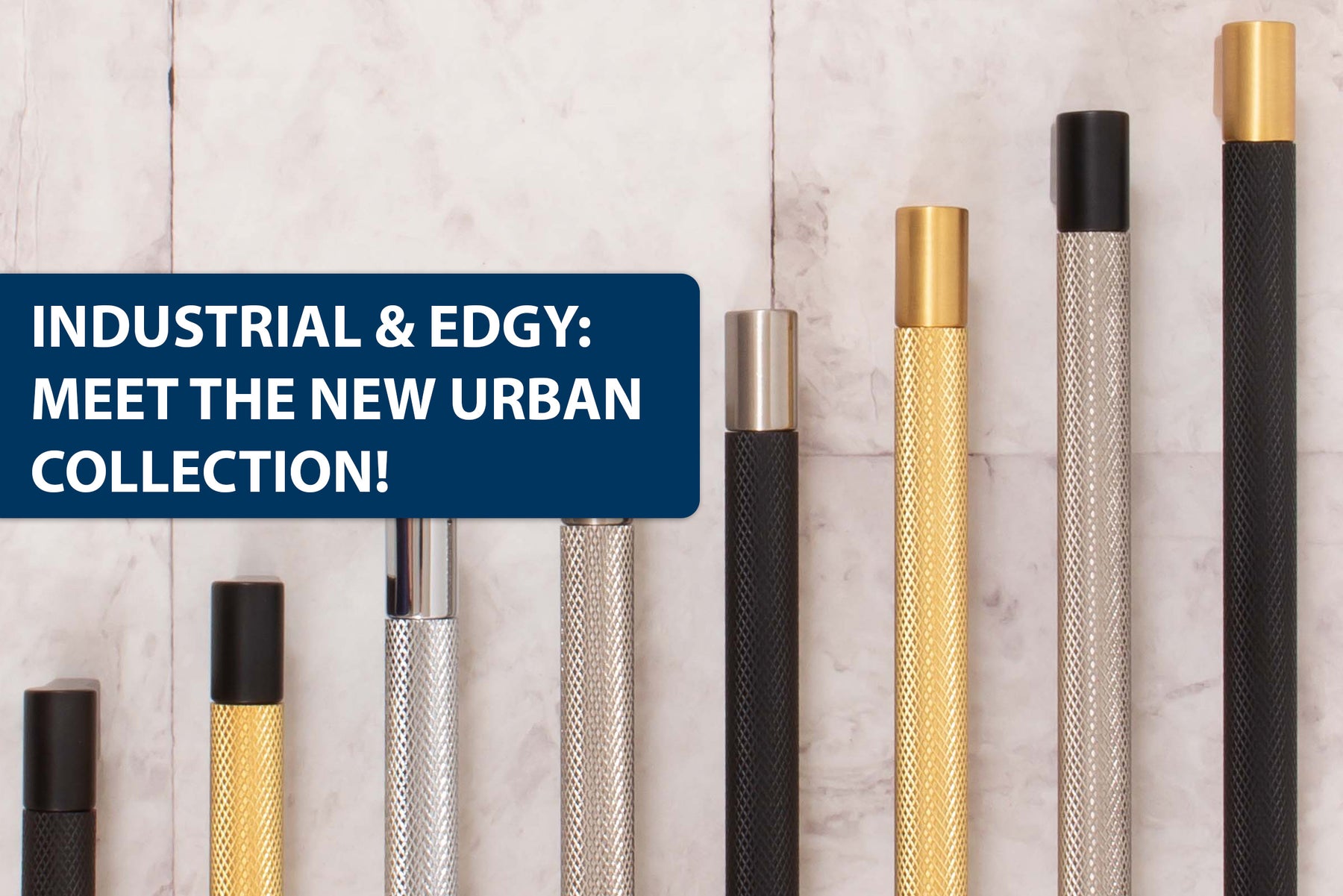 Outfit Your Home with the New Urban Cabinet Collection!
The latest addition to the Stone Harbor Hardware inventory has finally arrived! Our new Urban Collection of cabinet pulls is now available. The Urban Collection is arguably our most unique collection of cabinet hardware, offering mixed metal finishes, knurled handles, and various pull lengths for customers to explore. Let's take a closer look at this new hardware Stone Harbor has to offer! 
Mixed Metal Construction Offers Various Finish Combinations 
The Urban Collection of cabinet pulls features a mixed metal construction featuring zinc ends that are connected via an aluminum center bar. In addition, the design of the pulls' ends mimics the shape of Stone Harbor's Vienna door lever, making it easy to coordinate the cabinet hardware with the rest of the home.  
In total, eight unique finish options are available for the Urban cabinet pulls. Half of these options are entirely one finish, including Satin Nickel, Matte Black, Polished Chrome, and Satin Brass. The remaining options feature mixed finishes that include Satin Nickel with Matte Black ends, Matte Black with Satin Nickel ends, Matte Black with Satin Brass ends, and Satin Brass with Matte Black ends. 
Urban Cabinet Pulls Feature Knurled Handles and Various Lengths 
Another unique element of the Urban cabinet pulls is the knurled handle that they feature. This is a newer trend in the cabinet hardware market and one Stone Harbor Hardware is looking to establish itself within. The knurled handle helps improve grip while also offering a distinctive design choice for customers as well. 
There are six different pull lengths available for the Urban Collection. The listed lengths for cabinet pulls are the center-to-center distance of the hardware's installation screw holes. The six listed lengths for Urban pulls are 96mm, 128mm, 160mm, 192mm, 224mm, and 256mm. These pulls feature overall lengths of 4-5/16", 5-5/8", 6-11/16", 8-1/8", 9-3/8", and 10-5/8", respectively. 
Check out the Stone Harbor Hardware inventory to explore the Urban Collection of cabinet hardware for yourselves today!