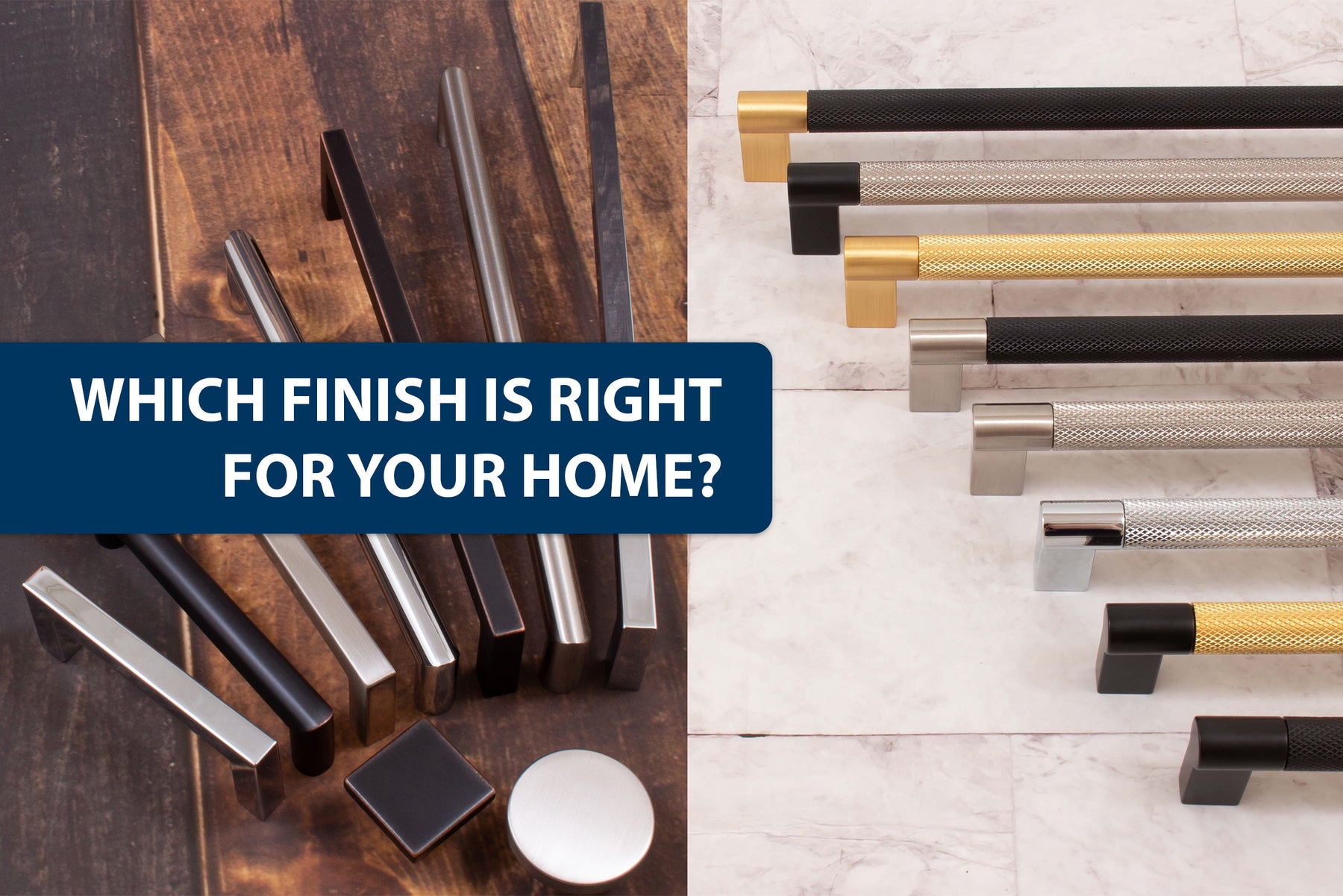 Which Finish is Right for Your Home?
Deciding what type of finish that you want to use when replacing your door handles, cabinet pulls, or bathroom hardware can be a difficult task if you don't have a clear interior design plan. At Stone Harbor Hardware, we offer a variety of unique hardware finish options that our customers can choose from. Join us today as we highlight which hardware finishes may work best with your home and design preferences. 
When Should You Incorporate Hardware Featuring Gold Tone Finishes? 
Brass finishes are, and have been, very popular options for most home hardware, specifically for door handles and cabinet pulls. Brass finishes are the most common gold tone finishes available in the industry. We offer three types of brass finishes here at Stone Harbor Hardware. These include Polished Brass, Satin Brass, and Antique Brass.  
Our three brass finishes work with a variety of different home styles and design choices. Polished Brass works well with Art Deco style, Satin Brass really pops in modern homes when paired with dark colors, and Antique Brass offers a style that matches well with design that features exposed wood or stone. 
What Interior Design Styles Work Well with Hardware in Dark Tone Finishes? 
Dark tone finishes generally include both black and bronze hardware finish options. Black and bronze finishes work very well with most interior design styles and Stone Harbor Hardware offers Matte Black, Oil-Rubbed Bronze, and Vintage Bronze as dark tone finish options. 
As we mentioned, dark tone finishes work well when paired with various interior design choices. Specifically, Matte Black works great for homes with a streamlined and straightforward interior design, Oil-Rubbed Bronze pairs quite well with both Mediterranean and Tuscan styles, and, finally, Vintage Bronze works very well when used with Victorian style or design that reflects upon the recent Arts and Crafts movement. 
Where Can You Utilize Hardware that Offers Silver Tone Finishes in Your Home? 
In addition to gold tone and dark tone, silver tone finishes are also quite popular for interior designers where hardware is concerned. Four finishes—Antique Nickel, Polished Chrome, Satin Chrome, and Satin Nickel—make up the silver tone options we offer here at Stone Harbor Hardware. 
Chrome and nickel finishes work with most interior design options but should not be used interchangeably if possible. Having a home or room that features both chrome and nickel finished hardware really clashes and doesn't provide the best aesthetic.  
With that said, Antique Nickel finish pairs well with urban design or industrial modern style while Satin Nickel should be used in Mid-Century Modern settings and really pops when paired with dark colors like black and navy. Polished Chrome is flexible enough to work with the Art Deco design of the 1920s and the current minimalist style that is growing more common. Satin Chrome works well with contemporary styles and looks great when paired with stainless steel appliances as well. 
Take some time to explore these finish options for yourself as you browse through the Stone Harbor Hardware inventory today!